Greetings!
Please check out our next round of volunteer dates for restoration work at SṈIDȻEȽ (Tod Inlet, Gowlland Tod Provincial Park): October 14 & 28 and November 4 & 18. We are looking forward to another fun season with the community in this beautiful place.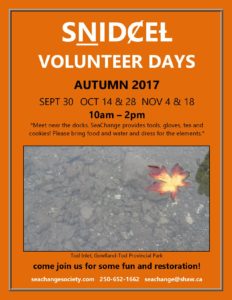 SeaChange provides tools and gloves as well as light refreshments. Please bring food and water and dress for the elements.
Click here
to view a map of the park. We look forward to seeing you at the inlet!
Sincerely, JLA
Judith Lyn Arney, B.A., M.E.S.
Ecological Restoration and Native Plant Propagation

PEPÁḴEṈ HÁUTW̱ Native Plants & Garden Program

ȽÁU,WELṈEW̱ Tribal School, BC

SṈIDȻEȽ Restoration Coordinator
SeaChange Marine Conservation Society