SeaChange believes every child has the right to joyfully experience first-hand the wonders of the outdoors.
Tod Inlet (SṈIDȻEȽ, The Place of Blue Grouse) is the stage for these explorations.
EcoRowing
Youth from our local schools paddle the peaceful waters of Tod Inlet as one of our year-round educational activities. When paddlers disembark, an Elder from the SȾÁUTW̱ Nation explores native plants of the inlet and their uses for medicines, food and tools. Then the students pour "pollution" on a three dimensional model of the Tod Creek Watershed and discover how land activities can affect water quality in the inlet. Afterwards they test water quality on the dock that also houses the Nature Float.
If you are an educator who would like to offer this program to your class, please contact us.
Nature Float and Guided Experiences
Every summer the Tod Inlet Nature Float displays exhibits about the rich ecological and cultural history of SṈIDȻEȽ. Educational programs include activities for families – tours of the history of the landscape, canoe paddling on the inlet, water quality sampling activities, watershed model presentations, and treasure hunts.
Earl Claxton Jr. and other members of the WSÁNEĆ (Saanich) community lead ethnobotanical tours throughout the year. They share their extensive knowledge by telling the stories of plants and their value to their communities for tools, food and medicines from thousands of years ago to the present.
Sign up for our Blog for updates on 2017 summer opening date and hours of operation of the Nature Float.
Outreach
SeaChange is a proud partner with Seaquaria in Schools and World Fisheries Trust in offering shore study programs in Victoria. Over many years we have worked together to develop an environmental ethic with educators who work in local School Districts. Programs for teacher Professional Development Days and environmental education programs are offered throughout the year.
International Programs
SeaChange works with the University of Victoria and Vancouver Island University to engage students from countries around the world in the cultural and ecological beauty of SṈIDȻEȽ. Day-long programs include ethnobotanical tours, watershed models and an overview of the ongoing restoration work of a special place with thousands of years of history. We are passionate about exploring the common ground that we all share as citizens of the planet.
A big thank you this week to the students from Bayside Middle School for coming out to SNIDCEL for the 6th annual Creatures of Habitat Day on Tuesday April 15! These young students did amazing work pulling blackberry and English ivy and connecting to this wonderful...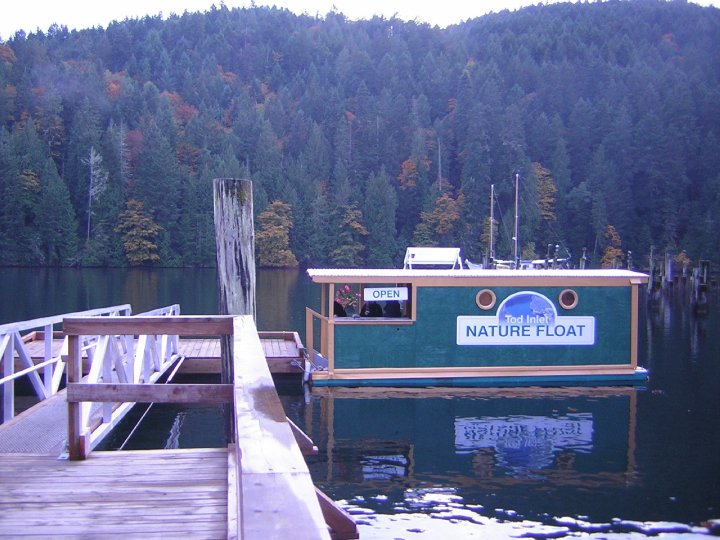 The Tod Inlet Nature Float exists because several organizatios worked together to bring it about. The former Marine Ecology Centre donated the barge. Saanich Inlet Protection Scoiety raised funds for the installation of the dock, barge refurbishment and continue program fundraising. SeaChange Marine Conservation Society has become the barge owner and continues to facilitate the effort. And BC Parks permitted the program.