In 2000 SeaChange, with community government support, restored underwater marine habitat in Tod Inlet, SṈIDȻEȽ.
Little did we know this was the beginning of an oddesy of ecological and social restoration in the Salish Sea. Today we engage communities in restoration of terrestrial native vegetation, shoreline restoration and of course eelgrass!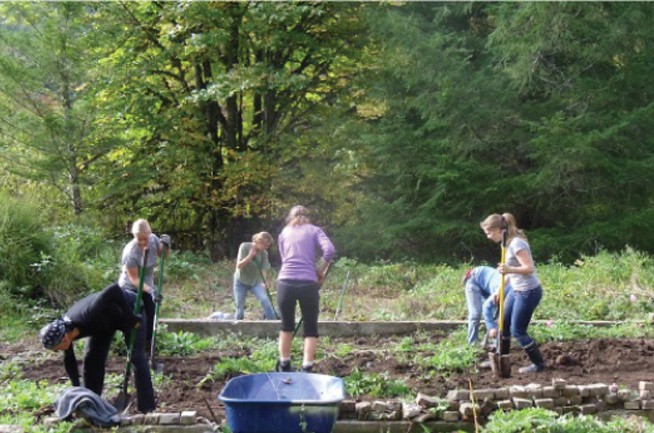 Terrestrial Ecological Restoration
The SṈIDȻEȽ Restoration Project is part of an ongoing collaborative effort to revitalize SṈIDȻEȽ as a place that can once again be habitat for Blue Grouse as well as a vital source of traditional foods and medicines.
In 2006 the BC Conservation Corps employed a team of workers to establish terrestrial restoration sites in the area surrounding the inlet. From 2006 – 2010, SeaChange staff maintained these sites through school programs and Volunteer Restoration Days. In 2010 the terrestrial restoration work was developed into a landscape level restoration plan linking all the sites together; and regular volunteer days were established to develop and expand the restoration sites. Additionally, many school programs and community groups participate annually in the restoration of these sites.
Click here to learn more about the restoration plan and view pictures of our progress!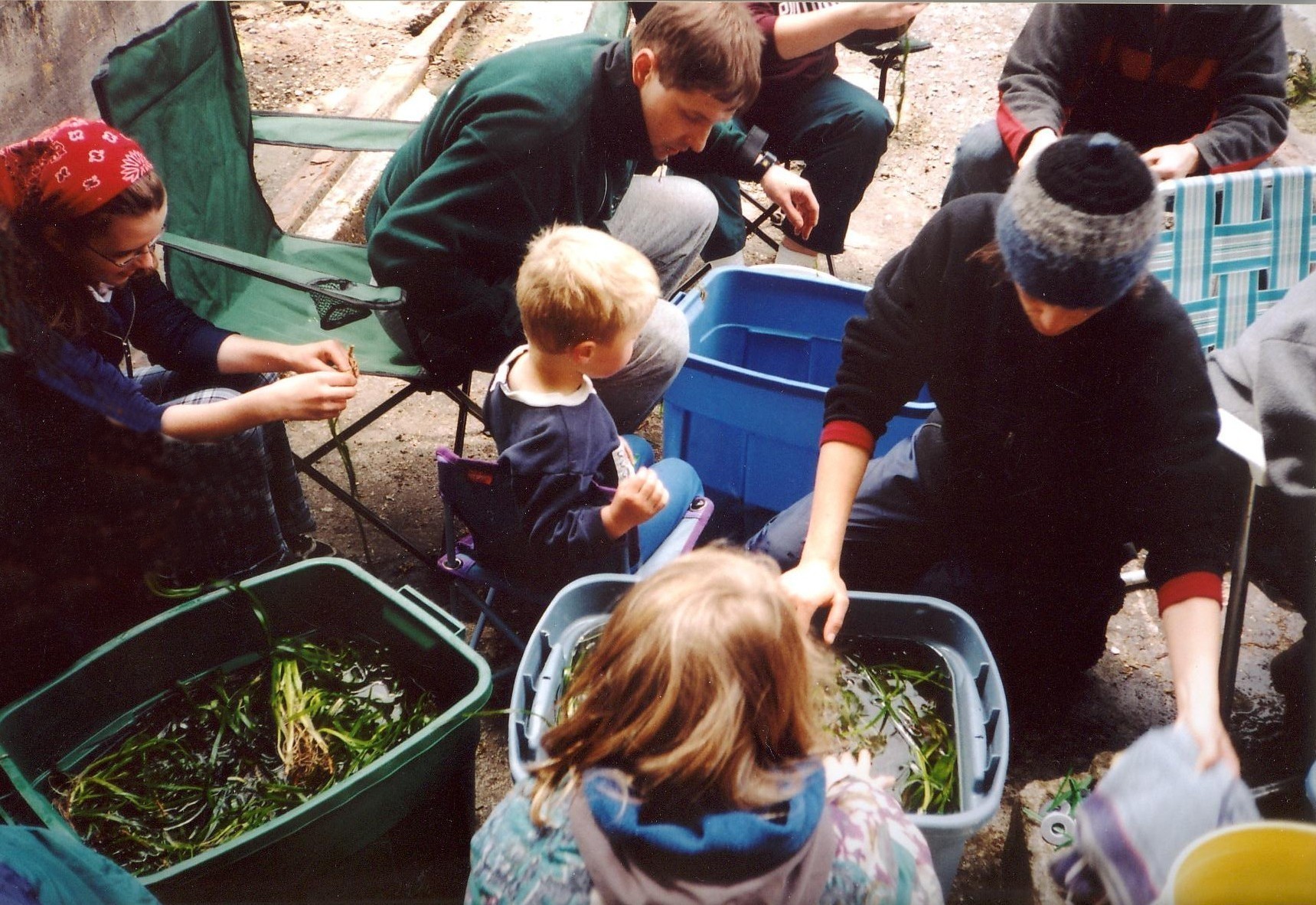 Eelgrass Restoration
The lessons learned from initial restoration plots in SṈIDȻEȽ in 2000, sparked a coast-wide eelgrass mapping, monitoring and restoration network – the Seagrass Conservation Working Group (SCWG). Sixteen years later, we are working on 30 eelgrass restoration projects within estuaries in the Salish Sea. Our strategy is to locate potential restoration sites where it would have been historically present (former log booming areas are typical) and transplant between 500 and 1000 eelgrass shoots into a test plot. After a year of monitoring successful test plots are expanded. We employ an expert team of WCB certified SCUBA divers to harvest shoots from lush beds near the restoration site and invite volunteer to prepare the shoots with anchors for the divers to transplant. Currently we are prioritizing sites that already have some protection, such as an adjacent upland park.
For more information about the activities of the SCWG, please see the web site: www.seagrassconservation.org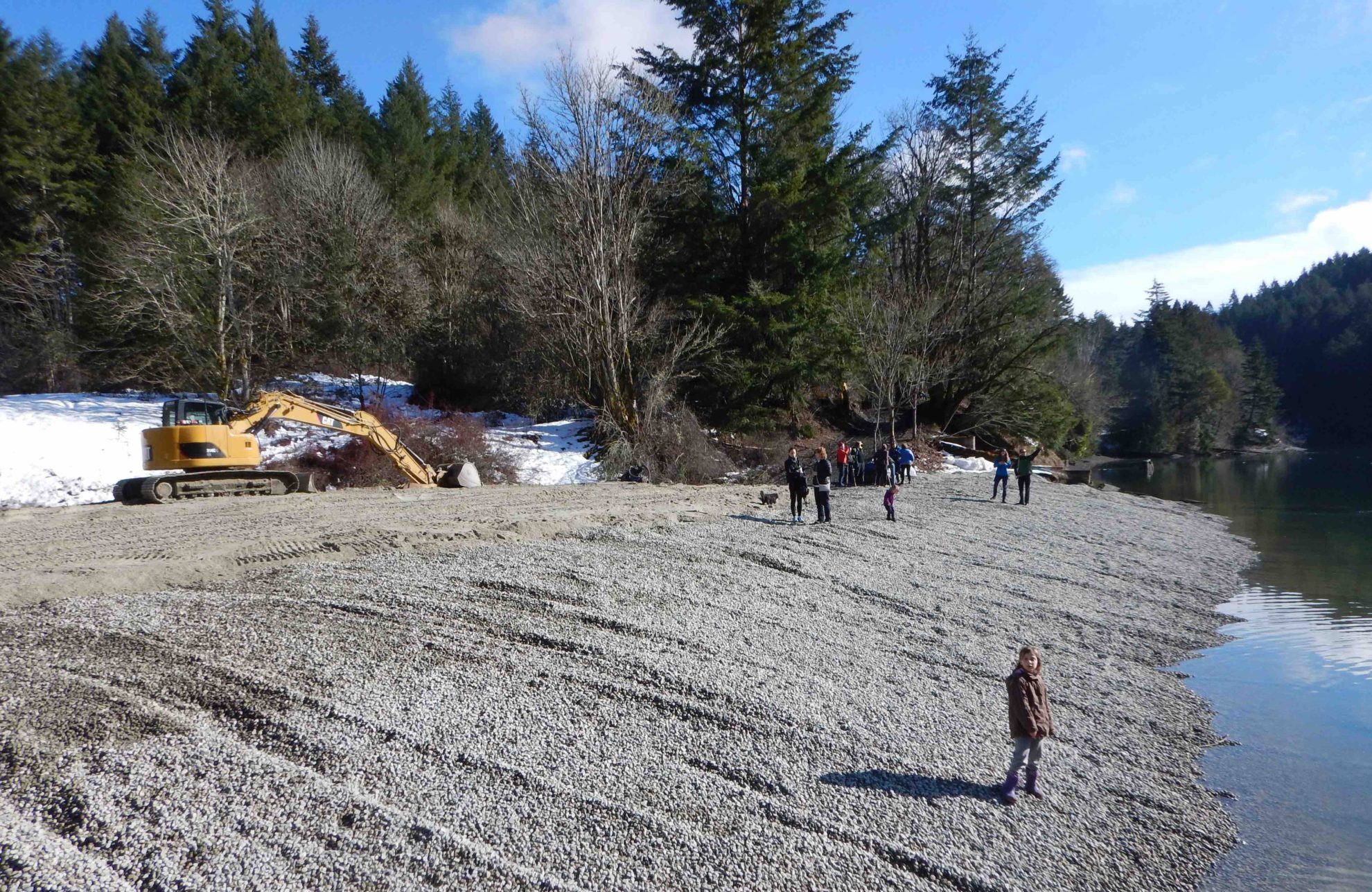 Shoreline Restoration
The shoreline of Tod Inlet has been heavily impacted by historical industrial activities It looks much the same as it did over a hundred years ago. This site was used for a winter camp by the W̱SÁNEĆ First Naitons for harvesting shellfish. SeaChange is working on enhancing this beach by placing clean sand and gravel on top of the existing shore sediments and installing plants further up from the water to accommodate rising sea levels. The project is designed to increase biodiversity as well as serve as a demonstration project to shoreline property owners who live in low wave energy areas and find their land slowly being eroded. In partnership with the Tsartlip First Nations and BC Parks, we hope to complete the two phases by the end of March, 2017. For more information read the Tod Inlet Beach Enhancement Media Release.
Click here to see project description and photos of Tod Inlet Beach Enhancement Project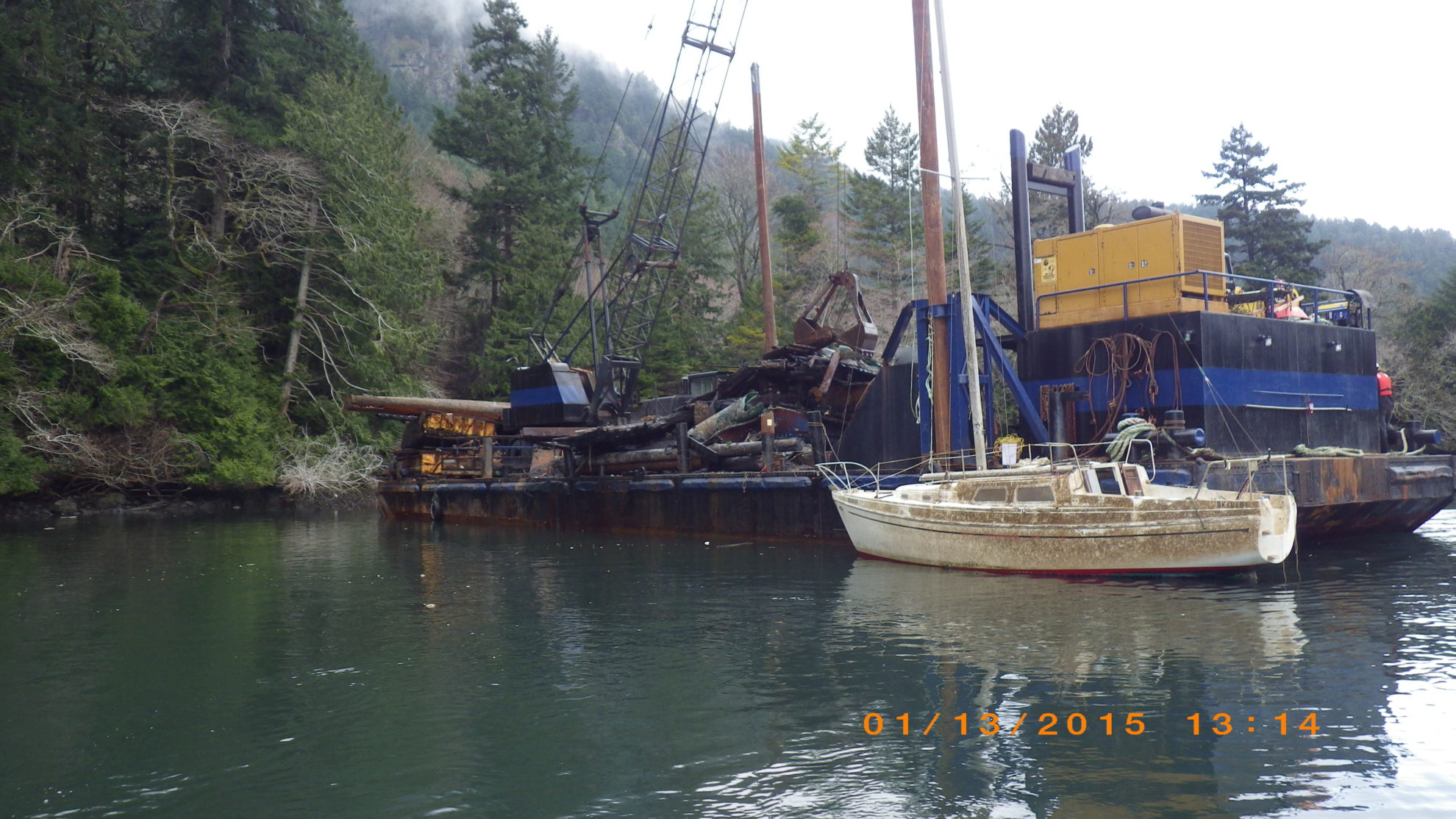 Marine Debris Removal
In 2015 SeaChange removed 52 tonnes of underwater debris from Genoa Bay in the Cowichan estuary to expand area for eelgrass restoration at that site. Since it gave us such a thrill to see all the scrap metal, old barges and rope removed, we decided to do the same for Tod Inlet. During the winter of 2016-7 we will be using SCUBA divers, lift bags, work floats, and, for the bigger debris, barge and crane, to remove debris mapped by our summer students during the summer of 2016. This is part of a 100 Year Pan for the recovery of this special estuary – and we look forward to doing this work. Funds for the project are from the Recreational Fisheries Conservation Partnership Program and the Pacific Salmon Foundation.
In the winter of 2015, we removed derelict marine debris from the bottom of Genoa Bay, BC, getting it ready for an eelgrass transplant. Jump to minute 3:35 to watch underwater eelgrass planting in action!
This video highlights a our partnership with Cowichan Community Land Trust to restore eelgrass in Cowichan Bay, British Columbia.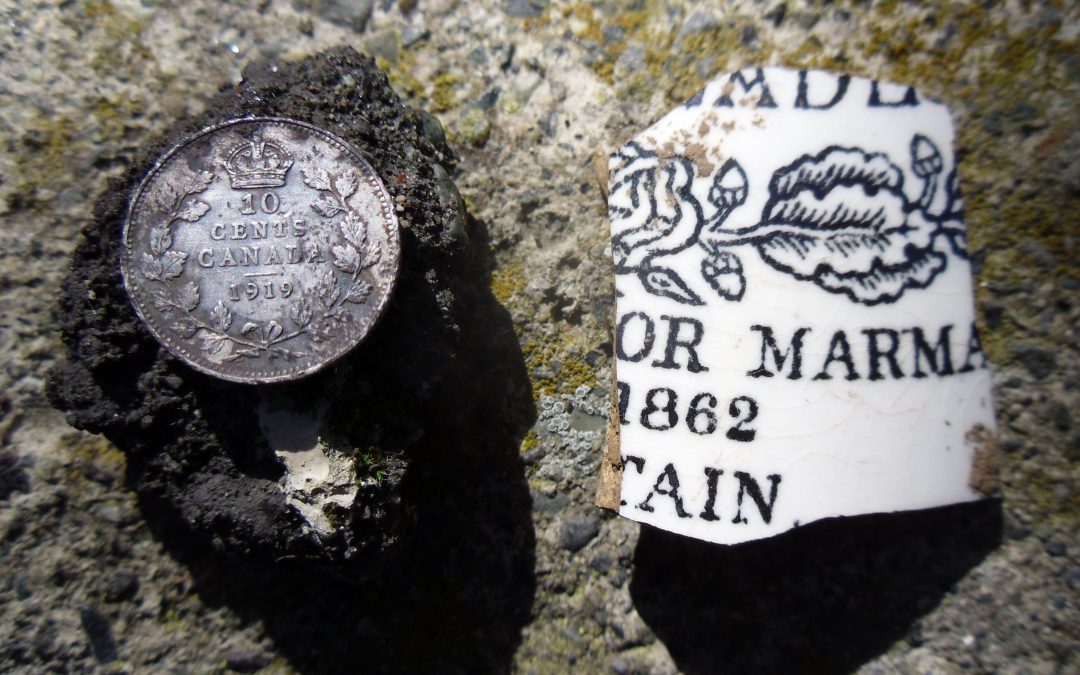 In October 2013 volunteers found amazing pieces of SNIDCEL's industrial past last volunteer day: a dime from 1919 and a broken piece of a ceramic marmalade jar dated 1862!  These pieces serve to remind us of the layered cultural history of this place. We have had some...
read more