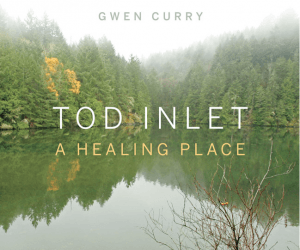 SeaChange has invited Gwen to talk about her book, Tod Inlet, A Healing Place at Brentwood Bay Village Empourium Cafe on January 14, 7-9 pm.
Gwen has written a book that chronicles the last century of industrial activity and the timelessness of SṈIDȻEȽ (sngeet kwith) as the Coast Salish call the same area. Gwen uses photography to walk us through the seasons. She describes eras, artifacts, ruins and history as she goes enriching our understanding and appreciation of the place.
The English translation of SṈIDȻEȽ is Place of the Blue Grouse. While the particular blue grouse that would frequent SṈIDȻEȽ is now referred to as the sooty grouse, much healing remains before any sooty grouse return. The cultural resilience among WSÁNEĆ bands of the Saanich Peninsula parallels the gradual healing of SṈIDȻEȽ. There is no going back in time, but we can proceed in concert with natural systems. We can avoid repeating past practices that brought consequences we have come to regret. And, we can appreciate the mutual benefit to both the place and the people that occurs as we do the work.
Please come on January 14th. Gwen will be presenting some slides. The photos on this post are from her collection.  Good food and drink are available from the Empourium. There will be time for discussion.
Thursday, January 14 from 7 to 9 pm at Brentwood Bay Village Empourium in Trafalgar Square Shopping Centre, located at 7103 West Saanich Road where it intersects Wallace Drive in Brentwood.